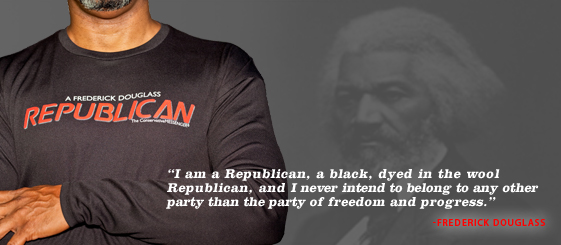 The Making of a Champion Party
Changing How the GOP Relates to Americans
The Republican Party must recapture its political prominence—become a vanguard of Douglass' LIFE-EMPOWERING values in order to halt the assault on our freedoms by liberal Democrats. This presentation empowers conservatives with the skills and tools needed to profoundly change the political landscape of America. Participants will learn how to engage family members, friends, and fellow citizens by employing the "Frederick Douglass Republican" strategy:
Convey Douglass' LIFE-EMPOWERING values to minority voters without being labeled as a "Racist" or an "Uncle Tom"
Re-ignite the passion for liberty among fellow citizens
Rebuild the Republican Party
Breathe new life into the Conservative Movement
Download Presentation (PDF)
NOTE: K. Carl's thought-provoking presentations range from a 20-50 minute, high-impact keynote to a 2-hour interactive workshop that includes Strategic & Action Planning. Both formats include no-holds-barred dialogue intended to help participants stretch beyond their assumed limitations.

KCarl's Interview on Huckabee Show
ON November 17th, 2010
2nd Interview w/ WorldNET Daily
ON November 11th, 2010
KCarl's Interview with CNS News
ON November 2nd, 2010
View All Events»



"Thank you Josh for your comments. I agree with you 100%. The Republican Party today does not…" admin