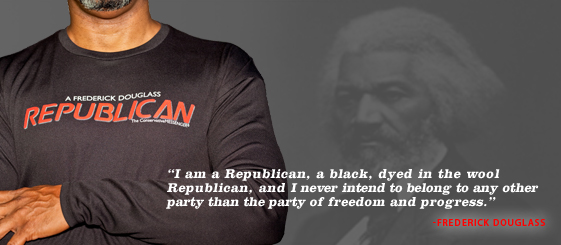 KCarl Smith
KCarl's Introduction (PDF) Downloadable Biography (PDF) KCarl's TURBO Card
A Man of God—KCarl loves his country and is an unyielding defender of the constitution and liberty. He has the visionary ability and unique gift of carrying the conservative message to diverse communities with mind-blowing positive results.
Appointed by Governor Bob Riley to the Alabama Amistad Commission in 2009-KCarl is a former Army officer and motivational speaker.
A Political Agitator-KCarl recently appeared on The 700 Club and FOXNews' Huckabee Show.
A Frederick Douglass Republican™-KCarl's to the guiding principles of the Founding Fathers led him to launch The ConservativeMESSENGER™.  A "grassroots" initiative, The ConservativeMESSENGER's mission is to: Enlighten, Educate, Empower and Equip its members based on the Frederick Douglass Republican™ Movement—an unique and powerfully effective strategy to: (1) Re-Ignite America's Passion for Liberty; (2) Help the Republican Party recapture its political distinction; (3) Save the souls of the politically lost; (4) Promote racial unity; (5) Create an atmosphere for political dialogue without the accusation of racism or Uncle Tomism; (6) Trump the race.
As a speaker, KCarl captivates and inspires audiences with infectious energy, compassion and satire. He brings his expertise and provides down-to-earth solutions on how the conservative movement can broaden its base. Audiences consistently give him standing ovations and say they left wanting more. Better still, KCarl leaves audiences ready to take action-action which could profoundly change the political landscape of America. Tea Party Groups, GOP organizations, collegiate institutions, and faith-based groups alike secure the services of KCarl for his stimulating and enrapturing LIFE-EMPOWERING message.
His presentations serve as a "beacon of hope" for those who hold Liberty in high-esteem. KCarl's latest talk, The NExSTEP: Creating Impact at the Precinct, is receiving rave reviews and having a profound influence at the local level. He has developed three other high-powered presentations: The Making of a Champion Party: Changing How the GOP Relates to Conservative Minorities; From Freedom-to-Slavery: Re-Igniting America's PASSION for Liberty; and Freedom's Future: Inspiring the Next Generation of Liberty Leaders.
An avid athlete, KCarl successfully completed both the Airborne and Air-Assault programs while on active duty in the U.S. Army.  He is the former District Leader (AL-7) for Americans for Fair Taxation.
The son of Colonel (retired) Earnest C. and Bessie Smith, Sr., KCarl is a native of Pine Bluff, Arkansas, was reared in Huntsville, Alabama. He is graduate of Alabama A&M University and makes his home in Trussville, Alabama. KCarl is the proud father of two children and four grandchildren.
Download KCarl's Introduction (PDF)
Download KCarl's Biography (PDF)

KCarl's Interview on Huckabee Show
ON November 17th, 2010
2nd Interview w/ WorldNET Daily
ON November 11th, 2010
KCarl's Interview with CNS News
ON November 2nd, 2010
View All Events»



"Thank you Josh for your comments. I agree with you 100%. The Republican Party today does not…" admin